---
ABOUT THIS OFFER
Call of Destiny taps into the enormous appeal of astrology and offers a chance to work with a team of highly skilled marketers. The offer was crafted by an astrologer with more than three decades of expertise, and clients are provided with the information they desire, presented in an original manner..
Call of Destiny is the only astrology offer available that utilizes a multi-step, direct response marketing funnel along with a modern video sales letter that runs on auto-play for both video and audio. The text has been rigorously tested with over $200,000 worth of advertising, and our conversion rates will shock and delight you.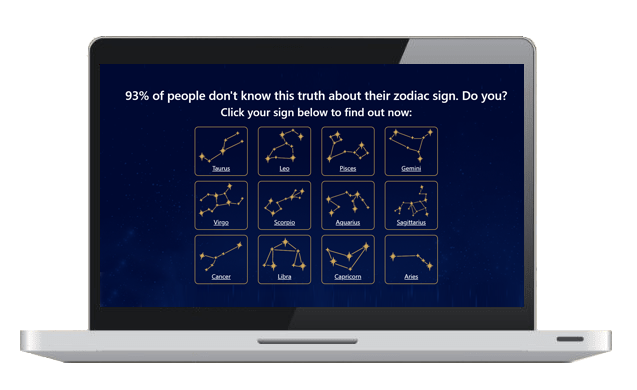 ---
Create Your Affiliate Hop Link
Tip
: Don't want to send your traffic to our sign selection page? Set up your own sign select page or only target one sign per campaign with these custom links:
HERE
---
Why Promote This Product
Here are 3 reasons why you should jump on our offer:T
1. Our finely tuned pitches and funnel have been proven to generate sales, and we are continually refining them.
2. This niche is fully compliant with major traffic sources such as Facebook and Google, and it's even suitable for younger audiences sound on sites such as Snapchat.
3. The global market for astrology is estimated to be close to 1 billion potential customers, with over 90% of adults knowing their zodiac sign and 70 million people in the United States alone having a strong belief in the practice.
---
Your Affiliate manager
Hi, I'm Leny and I'm here to help you make more money with our offer. Please contact me at
[email protected]
IMPORTANT: I answer all your email requests, and usually within one business day. PLEASE CHECK YOUR SPAM FOLDER before claiming you never heard back from me!